The past few weeks have been busy for us. Here's what we've been up to….
SBI in the Midland Business Journal
Our friends at the Midland Business Journal asked us to provide some insights for the latest office design trends.  Plus our ad gave the readers a look at the new Steelcase Brody work lounge.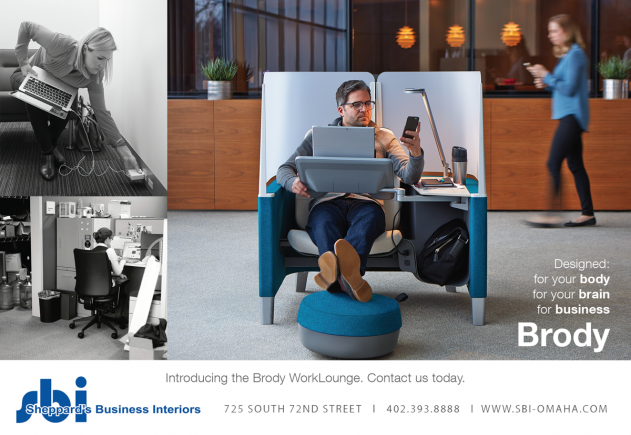 Modular vs. Millwork Session
Jill Gocal from Steelcase's Healthcare division was in town to discuss the benefits of modular solutions versus traditional mill-worked products.  We'd like to thank our friends within the architectural and design communities for spending their valuable time with us!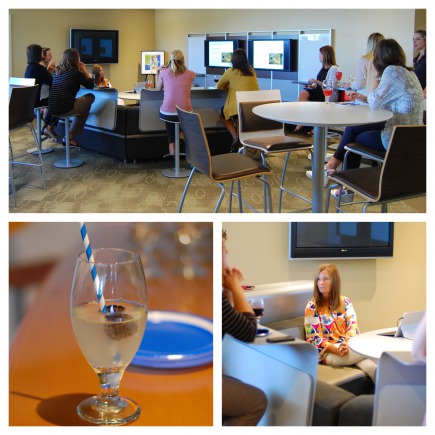 SBI @ The Center Sphere Annual Golf Tournament
We took a Steelcase Gesture chair to a golf course.  The reason? Well, once you've actually sat in the Gesture, you understand just how comfortable they are.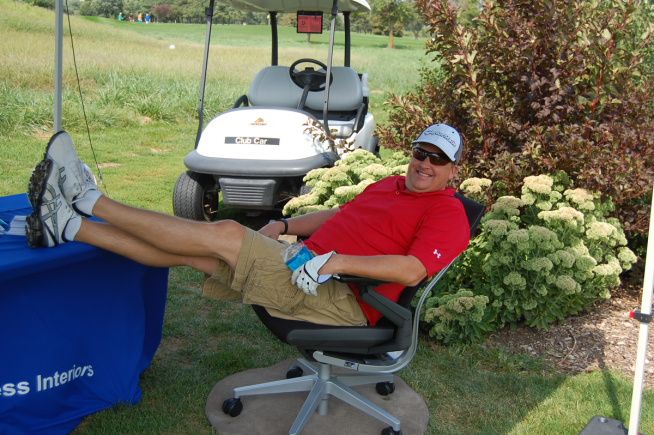 As well as inviting the players to try the chair out, we gave them the opportunity to win one.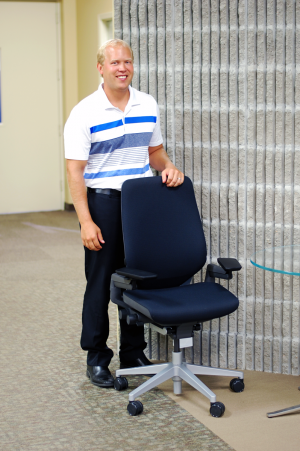 Congratulations to Tommy Visty for winning the most awesome chair on the planet!  Also, we'd like to thank Center Sphere for letting us hang out at the tournament!
Please feel free to visit our showroom to experience the Gesture for yourself.
AIA Nebraska Annual Conference
We love, love, love our friends in the Architectural community, so we decided to host a lounge area at the AIA NE Annual Conference at the CenturyLink Center in Omaha. Architects are a busy bunch, and we quickly found our lounge full of architects working away and charging their phones for their next call.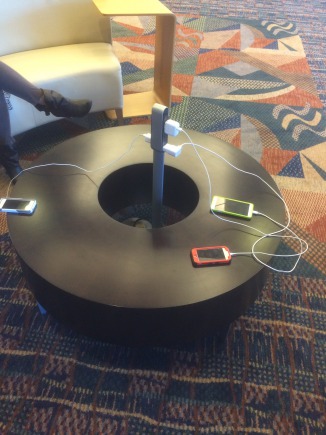 The conference itself started on Thursday 9/10, which included tours of Aksarben Village, the new Baxter Arena, the Blue Barn Theater, Boxcar 10 and Omaha's Flatiron Building.  After the tours, there was a lecture from John Sanders and Brandon Pace of Sanders Pace Architecture, a firm which focused on local urban adaptive reuse projects that has since expanded and now accommodates a diverse range of projects.
Thursday concluded with a tour of the SAC Federal Credit Union Headquarters in Papillion, which also played host to the Excellence in Design Gala.
We arrived at the CenturyLink Center bright and early on Friday morning to host our lounge space.  Friday's keynote speaker was Othello H. Meadows III, Executive Director of Seventy Five North Revitilization Corp. addressing the Highlander Development project happening on the near-north side of Omaha.  We also learned the priorities for the future of the University of Nebraska's College of Architecture, which was presented by Scott W. Killinger, the new interim Dean and Ernie Goss, Ph.D., MacAllister Chair & Professor of Economics.
The afternoon was packed with educational and best-practice sessions, a lecture on Omaha's "Do Space" digital library and was concluded with a tour of the Fred & Pamela Buffett Cancer Center construction.
We'd like to thank our friends at the AIA for letting us participate and extend a huge thank you to everyone that spent time with us in our lounge!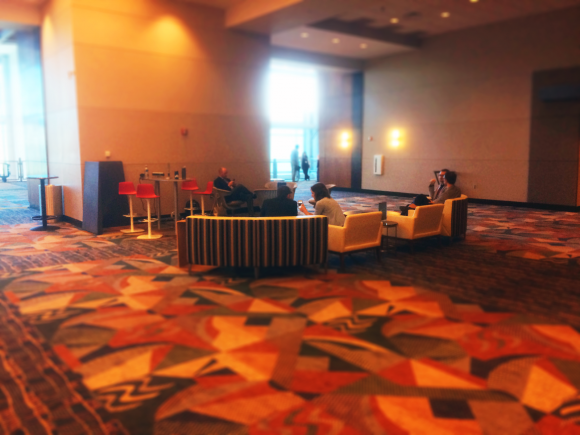 Facebook Sweepstakes
Our Facebook page does so many great things.  Not only does it keep you informed with the latest trends, products and research of commercial interior design, but we also like to do fun things like give away free stuff, and that's exactly what we did.  We gave away a Steelcase Gesture chair to one lucky person and all they had to do was 'Like' our Facebook page.  Simple, right?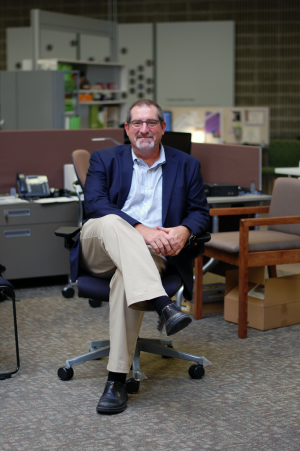 Congratulations to Bill Stott!
So, what are you waiting for?  Go and like our page so you will be ready for our next contest!