Work has changed.
More than half of millennials in the U.S. consider state-of-the-art technology to be an important factor in selecting an employer.  Millennials are a growing part of the workforce and they influence how other generations use technology.  Already three-quarters of the workers in the U.S. are mobile, meaning they often work outside a dedicated workspace, thanks to portable technology. In Western Europe, more than half the workforce is mobile. Across the globe, more than a third of workers are mobile —and these numbers keep growing.
It's estimated that by 2017 half of all employers will require employees to supply their own device for work purposes, such as smartphones, tablets, and even PCs. Companies with a "bring your own device" strategy should plan on each employee actively using at least 3 devices, and probably 4 to 5. That's a lot of technology to keep powered.  Technology in the workplace, and how to power it, will continue to be an issue for a long time to come.
People need technology.  Technology needs power.
Devices require power. And, in order to access power, users are willing to sacrifice their own comfort for an outlet.  How many times have you seen this at an airport?  We know it's a common problem.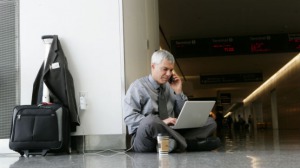 Outlets are often scarce and in hard-to-reach places.  Searching for outlets at a workspace is a pain, but it's an even bigger issue when groups can't find a place that will power multiple devices. Remember that, on average, people carry three devices per person. Searching for places to power up means lost work time, getting out of flow, and lost productivity.
Open spaces, such as cafes, often become "dead zones."  Mobile workers looking for flexible work spaces are only productive when near open outlets.  If there aren't enough power outlets, people won't use the workspace. People will often sacrifice comfort, ergonomics and privacy, to find a space where they can plug in their portable devices. Workspaces that lack power means real estate that's not being fully leveraged and not as productive as it could be.
Introducing Thread: Power made simple.
Thread is an ultra-thin power distribution system designed to provide power to the devices we use and the places we work.  A workplace solution unlike any other, Thread's innovative design lays underneath the carpet.  At a height of just 3/16", it seamlessly integrates into a space, providing power to furniture and users, without impacting foot traffic.  Its simple kit of parts allows under-utilized real estate to work harder.
Powering these so-called "dead zones" enables workers to be productive in multiple environments.  They can escape from their desk, collaborate freely with others or even find solitude for extra focus.  The bottom line is that this not only connects devices to power, but it also connects people to information and to each other.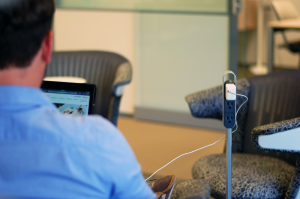 To see Thread in action, please pay us a visit at our showroom.  725 South 72nd Street, Omaha, NE 68114